Volunteering in Schools
Do you enjoy being with young people?
Are you keen to help them develop?
Do you love books or get excited by working with numbers?
If the answer to these questions is YES and you have a few hours a week to spare then why not join our school's project. Don't be put off by the prospect of it being time consuming.
Our volunteers are in schools in BANES, Bristol, South Gloucestershire and North Somerset working with pupils on a one to one basis supporting them with reading or number work. Volunteers receive Training and a Handbook and are supported by RSVP organisers who find them local schools and are there to answer any queries.
Why get involved?

The overwhelming response from our volunteers is one of satisfaction seeing pupils make progress and gain in confidence. They find it fun and refreshing too as in the words of these volunteers:

"The children are lovely and well behaved so it is a joy to read with them."

"The real reward is watching the children increase their speed, vocabulary and expression. It's a great feeling "

"I am so happy at Uphill School and have been made very welcome and one of the team. 
Cannot believe it is nearly 5 years that I have been there. 
I started doing one morning a week and now do three mornings,
and enjoy every minute. 
To have a child who is struggling with reading and working with them regularly,
to see them improve so much is very rewarding.
I hope I will be able to carry on for many more years to come" Peggy Ledbury
Our schools are appreciative too and welcome the support our volunteers offer.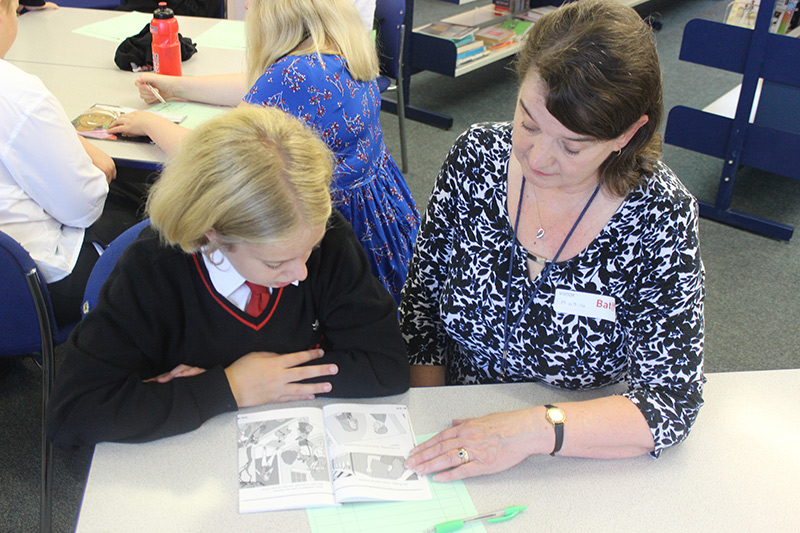 To read what users of our school service are saying, please follow this link 
For more news about this sceheme –  just follow this
Now, if you are interested in becoming a volunteer in a school please email  Judy Harris (schools@rsvp-west.org.uk)
or for more information read our leaflet.