The Matthew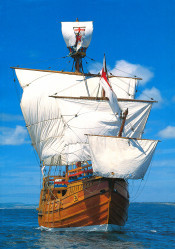 The Matthew of Bristol is a replica of the fifteenth-century Caravel in which John Cabot sailed from Bristol to Newfoundland in 1497; she was built to recreate that Journey exactly 500 years later. These days the ship spends much of her time open to the public at moorings outside the M-Shed in Bristol's floating harbour. In the evenings she often cruises in the harbour and during the summer goes on sea voyages with a limited number of passengers.
Visitors are greeted and guided around the ship by RSVP West Volunteers. Volunteers also help to maintain the ship and crew her, both on her evening excursions and her annual trips. The guide crew totals about 30 men and women, members of a regular six-days-a-week watch rota to help visitors enjoy and appreciate the unique qualities of the craft.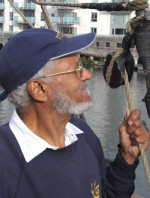 The Volunteers are passionate about the Matthew and there's a strong family spirit. Ann May who joined the ship as a Volunteer Guide10 years ago is intent on keeping that alive. It's also vital that the Matthew is maintained as a working ship as well as a visitor attraction because it is such a significant part of the heritage of Bristol
More volunteers are always needed. As older members retire or leave, new ones are regularly needed to keep the ship's busy activities fully staffed. It's not necessary for new volunteers to know the intricacies of sailing ships – Ann can vouch for that – as training will be given.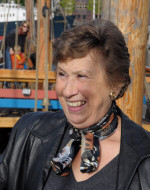 Volunteers who become members of the crew are literally taught the ropes and given other specialist instruction, including first aid, fire drill and how to cope with emergencies such as somebody falling overboard (which Ann is pleased to report hasn't happened yet). Ann emphasises that volunteers must be prepared to commit themselves to at least one half-day a week, morning or afternoon, and must enjoy talking to people.
If you are interested e-mail annmay@talktalk.net and for more information on The Matthew see the ship's own Website.