Musical Activity Sessions – This is an amazing opportunity for people who love to sing to bring enjoyment and vitality to older people
Do you love to sing?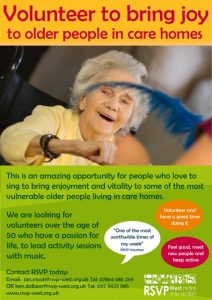 Would you like to bring enjoyment and vitality to older people living in care homes?
We are looking for volunteers to lead musical activity sessions in care homes. We are extending our schemes providing these sessions in Bristol's care homes. Care home residents are amongst the most vulnerable in the community and are mostly isolated from the outside world. These sessions bring them great joy and happiness and lights up their week, which delights our volunteers.
What are they looking for?
We find that people who like to sing love this volunteering role. Also, people who play an instrument are very suitable. You need to be able to stand up in front of a group of older people by yourself whilst singing or playing music. Being able to have fun is also an important part of this role. Our volunteers talk of their groups as being very enjoyable and say it is the most worthwhile time of their week.
People who are retired or work part time are usually suited to this volunteering as the group sessions usually take place mid morning or early afternoon.
RSVP usually recruit people who are over 50 years pf age.
Practical Considerations
Volunteers do not need any qualifications or particular experience, just a willingness have a go and preferably have something to offer in the way of singing, music or vitality.
It is helpful if you are able to get around Bristol. Although we try to place volunteers near to their care home, this is not always possible.
We provide good training and support. We provide all the equipment you may need and pay all out of pocket expenses including mileage in the Bristol area.
We ask for a commitment for up to one year and
the ability to offer weekly sessions of one hour to care homes
Our volunteers say:
 'I absolutely love running these sessions.'
'They, the group, are my friends now and I am family.'
'I have so much fun and it is wonderful to see them come alive during the session.'

If this opportunity appeals to you please do contact us for more information at:

jan.snook@ rsvp-west.org.uk 
Tel: 0117 9628 649
or
ken.dolbear@rsvp-west.org.uk


Tel: 0117 942 3085

We will be delighted to hear from you