The Joy of Volunteering in Schools, Judy Harris reports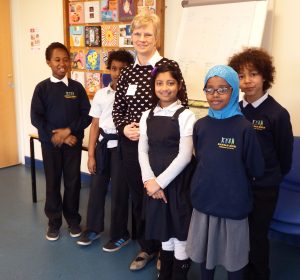 The Joy of Volunteering in Schools Volunteer Judy Harris reports:
My first day as a reading 'buddy' at a Bristol primary school brought back memories of my own school days—walls covered with colourful work, youngsters trotting around purposefully and that indefinable smell of school!
Each week I work with two year groups. I meet three girls in Year 5 (aged 9-10) for an hour—usually as a group but sometimes individually. Their teacher gives us an interesting worksheet that I help the girls to read and discuss. Sometimes we then read a book chosen by them.
Seeing the same children regularly means that I get to know them well and can see their progress during the year.
After lunch I support reading with Year 2 children, aged 6-7. Each child, selected by the teacher, reads to me for about 10 minutes from either their current reading book, a book they choose from the school library or a book that I take along with me.
These youngsters vary in their reading age and attention span but are always delightful and great fun.
Being a reading volunteer is definitely a rewarding and fun experience for anyone who enjoys being with youngsters and helping them to develop a pleasure in reading