Home Care Lay Assessors by Hilary Cooling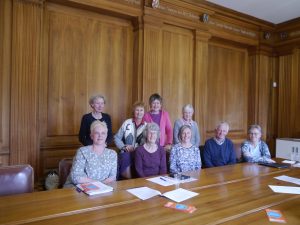 Hilary Cooling, one of our volunteers describe why she decided to become Lay Assessors and how she got on with training and her first visit.
The title of the flier caught my eye:  "Become a volunteer home care lay assessor".  I was volunteering for another organisation at an event in Bristol for older people, and taking a few minutes off to look around the many other stands and displays.  The volunteer staffing the RSVP stand didn't pressurise me and accepted I had little time to talk but could find further info on-line, which I later did.  With elderly relatives who have experienced home care of variable quality this was interesting, and the requirement of good communication skills and ability to use initiative, be organised and work as part of a varied team suited my experience as a recently retired medical doctor.
The training day was well run and interactive, valuing the knowledge and experience of the interesting group of new recruits from widely varying backgrounds. Existing volunteers provided much of the input about the role, which aims to find out the views of service users about the care they receive.  The person from Bristol City Council told us convincingly how the council values this extra level of information to help them monitor the quality of home care provided by several different agencies.  Safety issues for a volunteer going to someone's home were carefully addressed, as was the action needed if we felt someone we were visiting was at risk of harm.
So I've nearly finished my first batch of visits (6 over a period of 6 – 8 weeks).  Only one person forgot despite a phone call the day before, and I've met people who are variously frail, gruff, highly intelligent and enquiring, totally alone, surrounded by friends and family, living in pleasant supported accommodation or dingy dark rooms, and from a variety of backgrounds.