One Life Programme and Gentle Activity Project (GAP)
Keeping active as we grow older is vitally important. GAP and One Life programmes encourage older people to remain active, to meet socially and to have fun. It is never too late to become more active.
GAP is a chair based activity session using equipment such as balls, beanbags and resistance bands with music being an important part of the session. These sessions are run mainly in sheltered and extra care sites across the city.
 One Life is a singalong and musical activity session, again using some equipment to help keep people active. These sessions are run mainly in care homes in the Bristol area.
Our amazing team of trained volunteers who run these sessions get a lot out of helping older people to be more active and to have fun, whilst keeping more active themselves. These sessions can make a huge difference to the lives of residents and are often their highlight of the week.
"I can now walk up stairs without stopping."
"I feel more flexible and often do the warm up exercises in my flat."
"Although I enjoy doing the exercises, my main reason for coming is for the company".
" It's lovely to be able to sing along and we all get to choose our favourite songs"
"It's my favourite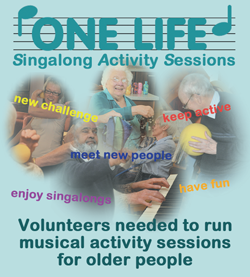 time of the week;
Supporting our volunteers is very important to us and we have regular meetings and training updates throughout the year.
We are currently developing a course which will be similar to One Life and hope to be running the course in 2015.
If you are interested in finding out about this new course and joining our team of volunteers please do contact us via the website. We are looking for confident, bubbly people who enjoy being with older people and are happy to lead a session, to sing and encourage older people to join in.
If you are interested please contact: